Russell Crotty - The Bergfeld Array
ABOUT THE WORK
Well known for paper-coated suspended globes and large-scale books containing a fervent network of ballpoint pen lines and color washes, Crotty's vast body of work challenges the definition of drawing, pushing the genre towards minimal sculptural installation. The artist's practice chronicles his idiosyncratic commentary on aspects of the natural and manmade world. Direct physical engagement with the subject is at the heart of the work, with on-site field notes made in sketchbooks. These experiences become the context for his peculiar taxonomies -- of night skies, rock formations, coastal range ridgelines, seascapes, etc. Fields of text, a hybrid of rant and prose, refer to Crotty's ruminations about the specific locality with which he's engaging. The text serves not only as a formal drawing element denoting strata and volume, but also a discourse for his fixation on place, turf, and bearings.
Russell Crotty (1956, San Rafael, California), The Bergfeld Array, 2013, ink and watercolor on paper on fiberglass spheres
The overall theme of The Bergfeld Array is Crotty's signature California landscape work, having grown up in Marin and Mendocino. From the north coast, to the inner coastal range, to the grand ridges above the Owens Valley, California is indelibly drawn into each of these globes. The Bergfeld Array globes are 36, 24, and 18 inch diameters. The globes are fabricated in fiberglass then covered with archival paper by professional paper conservators. Crotty draws directly onto the coated globe with a special archival ball-point pen over a wash of watercolor, gouache, or acrylic.
The spherical shapes create a symbiotic dialogue with the architecture of the historic building, giving definition to the open space of the vaulted ceiling, while the surround of warm wood and filtered natural light creates a dramatic backdrop that sets off the colors, textures, and luminescence of the globes. Reflective of the amazing California landscape just out the windows and beyond, this installation creates a decidedly calm and optimistic spatial experience.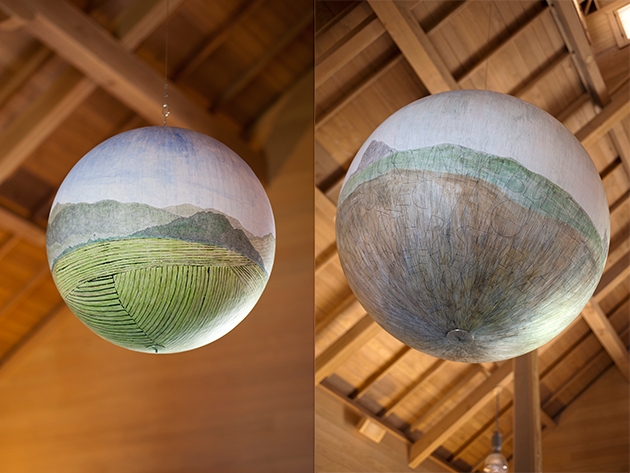 BIOGRAPHY
A native Californian, Russell grew up in the San Francisco Bay Area, began and nurtured his art career in Los Angeles, lived in the Santa Monica Mountains and now resides in Ojai and Upper Lake, California with his wife Laura Gruenther, a graphic designer. His work is in the collections of the Whitney, the Museum of Modern Art, and the Los Angeles County Museum of Art, among others.
"It was important to find art that would complement the space and not detract from the awesomeness of the high ceiling. The beauty and calmness of Russell's globes is the perfect fit. They reflect nature and at the same time do not interfere with enjoying this beautiful, historic building. It's just like how Craig and I only drink wine made by people we like and admire, we buy art done by artists who we enjoy. Russell Crotty is not only a great artist, but also a wonderful person." –Kathryn Hall